Guide to getting online in Denmark
In Denmark it seems like most ISPs don't care too much for foreign people. That might not be entirely true, but their websites do not offer sufficient information for customers in English. In addition many of them require you to have a CPR (Danish personal identification number) before they will sell you a subscription.
With that being said, there are ways to get a good internet connection as a foreigner. Below are three guides that will help you get online based on your current situation:
I'm looking for internet in Denmark, and I am a…
We also have a Danish section with more than 100 articles about the Danish internet.
Finding the right internet connection
It's difficult to find the best internet connection. It's hard to know what speed you need and there are a lot of terms to understand – some of which will have absolutely nothing to do with you. This is besides the fact that there are just so many ISPs to choose from that making a choice can be overwhelming, no matter what country you're living in.
However, finding the right internet connection is even harder when looking for it in a new country – especially if you hardly know anything about internet in the country.
If you don't speak Danish the easiest way to get access to the internet is to go to the ISPs shops. They should be able to help and guide you, and you should be able to find a shop near the place you are staying.
However, it's always nice to know what you should expect, and at Bredbåndsmatch.dk you can read about the normal terms, prices and speeds in Denmark. You can also get advice on the ISP that will suit you the best – especially if you are looking for mobile broadband, in which case you should take a look at the coverage maps before buying – even if it's just a pre-paid sim-card.
We also run the site Forbrugseksperten.dk, where you'll find a guide in English for phone deals in Denmark.
Why we have created this website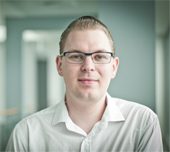 Our goal with Bredbåndsmatch.dk is to make it easy for consumers to buy an internet connection in Denmark.
Originally the site were intended for Danish citizens, but after realizing how difficult and confusing it can be to buy an internet connection as a foreigner, we have expanded the site with an English section.
It takes time and money to keep the site up to date. We are paid a commission from the ISPs, when customers buy an internet connection through their webshops after having clicked on one of our links marked with a heart.
– Jakob Pedersen, founder
Learn more about the site

Price comparison of Danish ISPs
Compare prices from 20 Danish ISPs
(Note: Prices and description in Danish)